When troubled, and unsure where to seek help please contact our centre.
You are also welcome to directly visit our office.
If troubled because of troubles with Japanese, please come consult with us.
While living here in Japan, if you have any issues with your work life, family and/or education, please speak to one of our consultants and we will help put you in touch with a specialist who can help with your issue.
We will protect the privacy of all visitors, so please be rest assured your consultation will be kept private. Consultations are free of charge.
TEL 055-222-3390
y-sodan@yia.or.jp
Whatsapp: chat only
https://wa.me/qr/BTXDQKI2VBLXP1
Yamanashi Foreigner Consultation Centre    PDF

---
Multilingual Support:
English, Chinese, Korean, Português, Vietnamese, Tagalog, Spanish, Thai, Nepali, khmer, Indonesian, Myanmar, Russian, French, Hindi, Japanese, a total of 16 languages
Languages to spoken by our in-house staff will be translated via a phone or tablet translation service with a live interpreter.
Operating Hours:
Tuesday-Saturday from 9:00am to 4:00pm
(Closed on Holidays including New Years from 12/29-1/3)
Location:
Yamanashi International Centre 2F
2-2-3 Iida Kofu 400-0035
e-mail  y-sodan@yia.or.jp   TEL 055-222-3390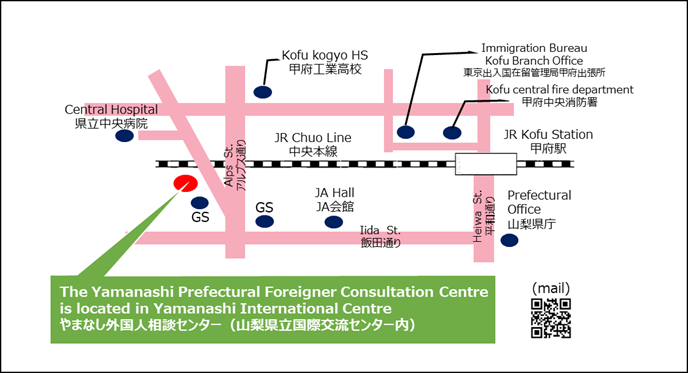 ---
【Related Organizations】

Immigration Services Agency of Japan –
出入国在留管理庁(しゅつにゅうこく ざいりゅう かんりちょう)
http://www.moj.go.jp/isa/index.html

Tokyo Immigration Services of Japan, Kofu Satellite Office –
東京出入国在留管理局 甲府出張所(とうきょう しゅつにゅうこく ざいりゅう
かんりきょく やまなし しゅっちょうじょ)
(Japanese Only)
http://www.moj.go.jp/isa/about/region/tokyo/index.html

Free Legal Consultations for Foreigners in Yamanashi –
外国人のための無料法律相談(がいこくじんのための むりょう ほうりつそうだん)
http://yia.or.jp/wordpress/?page_id=101

Houterasu Yamanashi 法テラス山梨(ほうてらす やまなし)
(Japanese Only)
https://www.houterasu.or.jp/chihoujimusho/yamanashi/

Houterasu 法テラス(English page)
Japan Legal Support Center
https://www.houterasu.or.jp/en/index.html

Young Hello Work – ヤングハローワーク

Foreigner Employment Service Corner –
外国人雇用(がいこくじん こよう)サービスコーナー
Portuguese and Spanish Speaker Available
https://jsite.mhlw.go.jp/yamanashi-roudoukyoku/hw/2-3-5/younghellowork.html
---
【Helpful Sites】

Japanese Courses in Yamanashi –
山梨県内(やまなしけんない)の日本語講座(にほんごこうざ)
http://yia.or.jp/wordpress/?page_id=109

Yamanashi International Association facebook page –
山梨県国際交流協会(やまなしけんこくさいこうりゅうきょうかい)facebook
https://www.facebook.com/YamanashiInternationalAssociation

Yamanashi International Exchange Volunteer Registry
山梨県国際交流(やまなしけんこくさいこうりゅう)ボランティア人材(じんざい)バンク
http://yia.or.jp/wordpress/?page_id=302

Foreign Residents in Japan Population Data –
山梨県内の在留外国人数(ざいりゅうがいこくじんすう)
(Japanese Only)
http://yia.or.jp/wordpress/?page_id=447